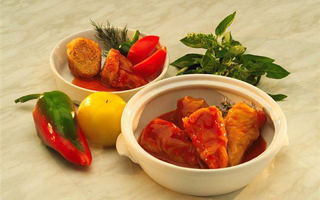 Mix the minced meat with cut up sour cabbage, and maize grits. Season with salt, savoury, onion, garlic, red paprika, hot paprika, and finally add the egg to the mixture.
Stuff the mixture into small cabbage leaves, approximately 6 to 8 leaves per person.
Place the stuffed cabbage leaves into crockery.
Fry the smoked fat bacon, and mix it with tomato purée and tomato juice, then pour this mixture on the stuffed cabbage leaves, and boil it in this covered crockery for 1 hour.
Ingredients:
| | |
| --- | --- |
| Sour cabbage leaves: | 12 leaves |
| Sour cabbage, cut up: | 0,20 kg |
| Maize grits: | 0,20 kg |
| Savoury: | a pitch |
| Onion: | 1 bulb |
| Garlic: | 3 cloves |
| Tomato juice: | 0,40 l |
| Tomato purée: | 0,15 kg |
| Sugar: | 0,05 kg |
| Red paprika: | 0,02 kg |
| Egg: | 1 pc |
| Smoked fat bacon: | 0,05 kg |
| Thin flank or pork (minced): | 0,40 kg |
| Ground hot paprika: | 1 teaspoonful |