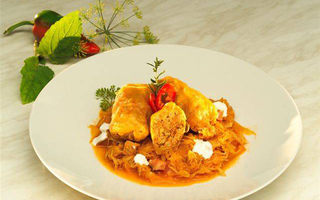 Divide the sour cabbage into three portions. Put 1/3 of the sour cabbage in a pan with thick bottom, then layer the chopped smoked foreleg ham over the cabbage, and cover it with the next 1/3 portion of the cut up sour cabbage. Mince half of the foreleg ham, and cut up the rest to cubes.
Mix the minced foreleg ham with the pearl barley boiled beforehand. Season the mixture with salt, pepper, onion, ground cumin, and red paprika. Add the egg to the mix, and prepare the stuffing by stirring.
Make stew from the meat cut up to cubes. After boiling the stew for a short time add the stew to the stuffed cabbages. Add the cream and a bit of sour cream to the stuffed cabbages, then cover the whole with the remaining 1/3 portion of the cut up sour cabbage. When the meal is boiling, set the cooker to a low scale, and continue the boiling slowly. Cover the pan for the whole time of boiling, and move seldom the pan to avoid sticking and burning of the meal. The best is to make this meal in oven, in a covered iron pan. Add the white wine to the meal, nearly at the end of the boiling process, i.e. after 1 hour of boiling. Put savoury and the fresh dill on the meal before serving. Decorate this really delicious nuptial meal with sour cream.
Ingredients:
| | |
| --- | --- |
| Sour cabbage: | 1 kg |
| Sour cabbage leaf: | 12 leaves |
| Bacon: | 0,20 kg |
| Smoked foreleg ham: | 0,60 kg |
| Foreleg of ham: | 0,60 kg |
| Pork leg: | 2 pcs |
| Pearl barley: | 0,20 kg |
| Ground cumin: | a pitch |
| Red paprika: | 0,03 kg |
| Salt: | 0,02 g |
| Pepper (ground): | a pitch |
| Sour cream: | 0,30 l |
| Cream: | 0,10 l |
| Savoury: | 2 springs |
| Garlic: | 3-4 cloves |
| Merlot of Eger: | 0,20 l |
| Fresh dill: | 1 bunch |
| Onion: | 2 bulbs |
| Egg: | 1 pc |