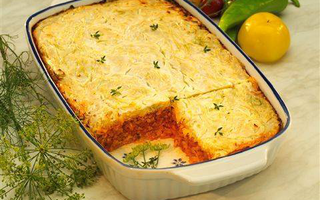 Put the sour cabbage into hot water, and boil it for 15 minutes. Filter it, but you do not need to wash it! Mince the pork and the smoked spare rib. Fry the fat bacon cut up to small cubes.
Put some fat in a baking dish, and use the rest to fry the onion in it, sprinkle some red paprika on it then place the minced meat over the fried onion, and season it. Stew the meat. Mix the meat with stewed rice and layer the mix into a baking dish.
Pour plenty of sour cream over the mixture then bake the whole for 50 minutes at a temperature of 180 oC-on.
| | |
| --- | --- |
| Smoke spare rib: | 0,40 kg |
| Chuck of pork: | 0,40 kg |
| Rice: | 0,30 kg |
| Sour cabbage: | 1 kg |
| Mangalica fat: | 0,15 kg |
| Onion: | 2 bulbs |
| Garlic: | 4-5 cloves |
| Salt: | 0,02 g |
| Red paprika: | Half a spoon |
| Smoked fat bacon: | 0,10 kg |
| Sour cream: | 0,30 l |
| Savoury: | a pitch |
| Bay leaf: | 1-2 pcs |